We are proud of our office here at Sagepointe Dental. Patients are the heart of our practice, so we go out of the way to provide comfortable, inviting reception and treatment areas, complete with the types of amenities you would expect from a premier dental practice in Bakersfield. Our office is also filled with state-of-the-art diagnostic and dental treatment technology to ensure accuracy and early detection of oral complications. We believe our patients deserve only the best, and our staff works hard to deliver a superior experience at every visit.
Our office is located in the Sagepointe Shopping Center along with OSH, Lorraine's Restaurant and a new Starbucks.
Office Amenities
For our patient's comfort we offer Keurig coffee machines, which include popular coffees from bold blends to mild teas. We also have TVs in treatment rooms for patient enjoyment.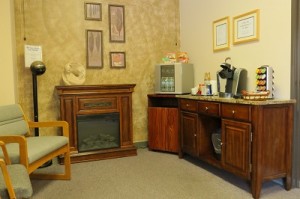 Insurance and Payment
Our office welcomes many types of dental insurance, and our insurance and payment coordinator will be happy to assist you in determining what type of benefits are available to you through your insurance plan. Payment arrangements for account balances are due at the time services are rendered, so please bring your insurance card with you to your first visit. We accept many forms of payment, including cash and most major credit cards. You can also use a CareCredit card. Applying is fast, easy and secure. As well as paying for your dental care at Sagepointe Dental, your CareCredit healthcare card is accepted at over 175,000 enrolled providers nationwide. You can apply right now and have a credit decision within minutes.

Sagepointe Dental Membership Plan

If you have no insurance, or your dental benefits do not meet your needs, check out the Sagepointe Dental Membership Plan